Historic Films called Bad Math.
And now what used to be the exclusive domain of a team of in-house librarians has been exposed to the world at large. Anyone can search, browse, watch, share and license footage online at historicfilms.com.
Read on to see how we helped get them there...
Going Digital
The first step was to start digitizing all of that footage! Bad Math designed a digitization and archiving process for Historic Films - an end-to-end pipeline where archivists could drop a tape in a machine, type in the number printed on its label, and press go. Shortly afterwards, the footage would be encoded in multiple formats and resolutions, and stored in an accessible online digital archive, neatly tied together with any existing meta-data. We worked closely with Historic Films to evaluate encoding formats, choose digitization and storage hardware, and develop custom software to automate the entire process.
In-House Tools: A Web Interface To Everything
We then worked hand-in-hand with Historic Films to develop a suite of powerful, custom tools modelled to fit with their existing, well-tuned production process. And best of all, everything runs in a web browser. Anyone at Historic Films can sit down at any computer, in-house or at home, and access all of the same tools through a secure connection.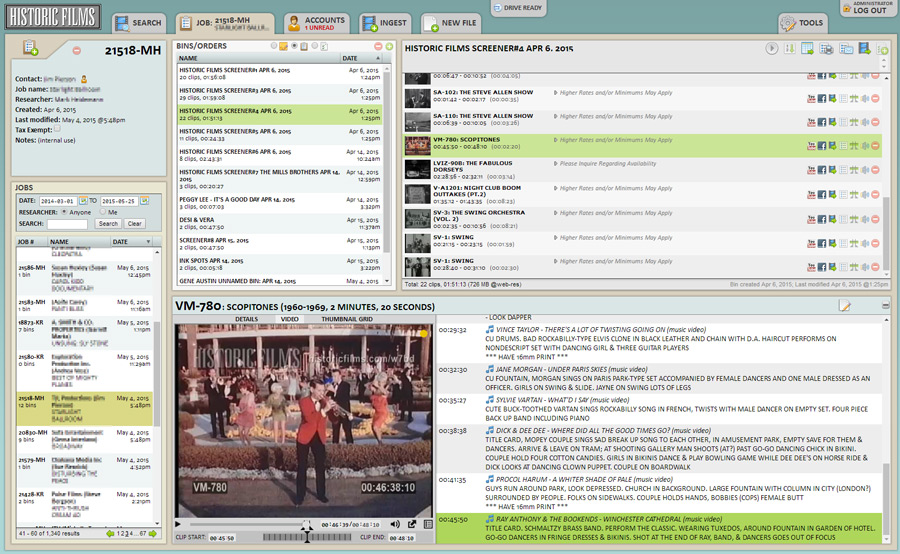 Managing the Archive
With our software, Historic Films' staff can continue with ongoing data entry and footage cataloguing, and can manage continual ingestion of new footage from multiple hardware sources. They can perform quality control reviews of new footage, set up access restrictions, export data, and see statistics on what the most popular footage and searches are on their site.
Serving Their Clients
As an archive, one of Historic Films' primary offerings is the team of in-house librarians that help their customers find just what they need, even if they're not entirely sure of what they're looking for.
It starts with librarian-grade search tools...
A search engine with natural language stemming and fuzzy search to include spelling and grammatical variations on search terms;
Advanced wildcard, boolean and proximity search operations;
Drill-down filters to help whittle down large result sets;
Search history and search bookmarking, for repeating past searches, resuming prior research, or setting favourite searches that are often repeated.
...and continues with ongoing client support. With integrated customer communication tools, and account and project management tools, staff can:
Track ongoing and past footage research projects;
Manage incoming customer research requests;
Create footage bins for customers to privately review footage online;
Quickly burn proxy DVDs and output master footage;
Complete orders, supply license agreements, and track payments and fulfillment.
Promoting Themselves
The public-facing side is complete with social media sharing tools - users can share individual clips or entire bins and post videos to Facebook or Twitter;
Staff can post videos to their YouTube channel directly from their archive at the click of a button;
The entire archive is search-engine optimized (SEO) so that individual reels with their descriptions appear in Google search results;
There's direct integration with third-party footage search services, automatically posting updates on a daily basis;
All preview footage is watermarked with a logo and a URL that links back to that specific reel on their website.
The Public Face: HistoricFilms.com
The public face to their library, HistoricFilms.com is where one goes to search the archive, make selections of footage, share it with others, communicate directly with Historic Films' research staff and complete licensing orders.
Full mobile support: In stark contrast to the competition, it's a single site that works on desktops, tablets and smartphones; no proprietary app is needed, and the mobile experience is just as feature rich as the desktop.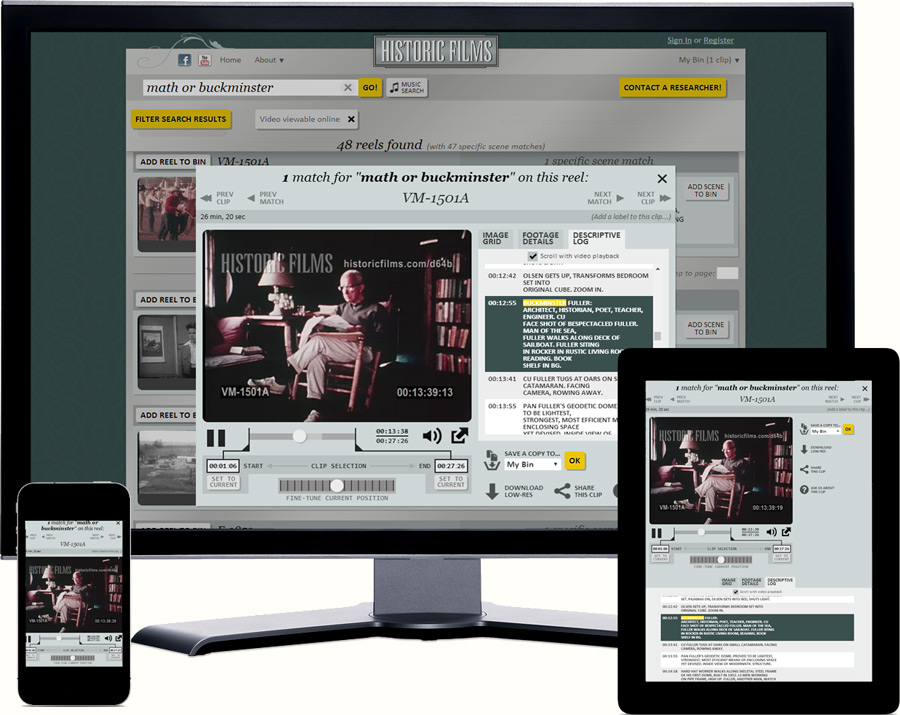 Multiple, sharable clip bins: Found some scenes that might be what you're looking for? Drop them in a bin, and save it for review later. Or maybe email that bin to a colleague for a second opinion. Attach a note to any clip or bin. Make as many bins are you want, bookmark them, share them, or even forward them directly to Historic Films staff for further inquiry.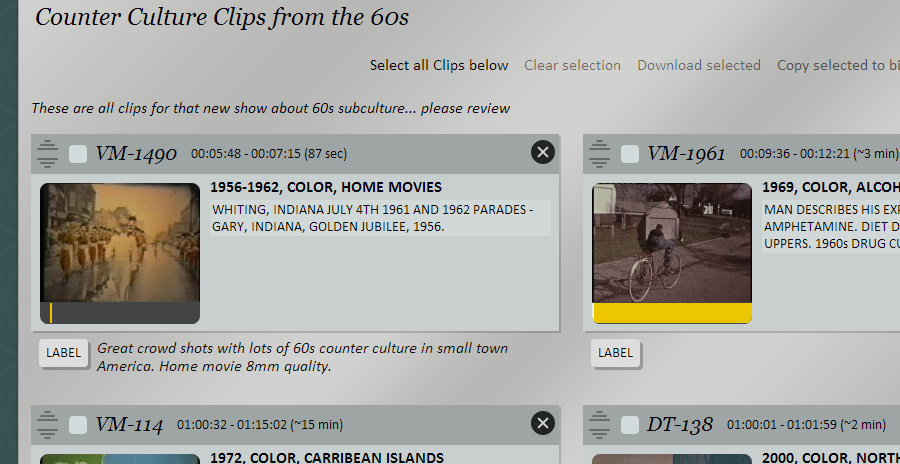 Jump right in: There's no need to have an account to get started. Users can make bins before sign-in and import them into an account later, making for a frictionless user experience with no barrier to entry.
Powerful, human-friendly search: Search terms are matched against multiple fields in each record, including scene-by-scene logs that describe all the on-screen action, so not only will the search engine return a reel that matches your search - it will locate and present an individual scene. Narrow your search with adaptive filters, or clarify your intent with semantic keywords. (Was that "table" as in "furniture", or "table" as in "chart"? Or were you looking for "table" as a verb?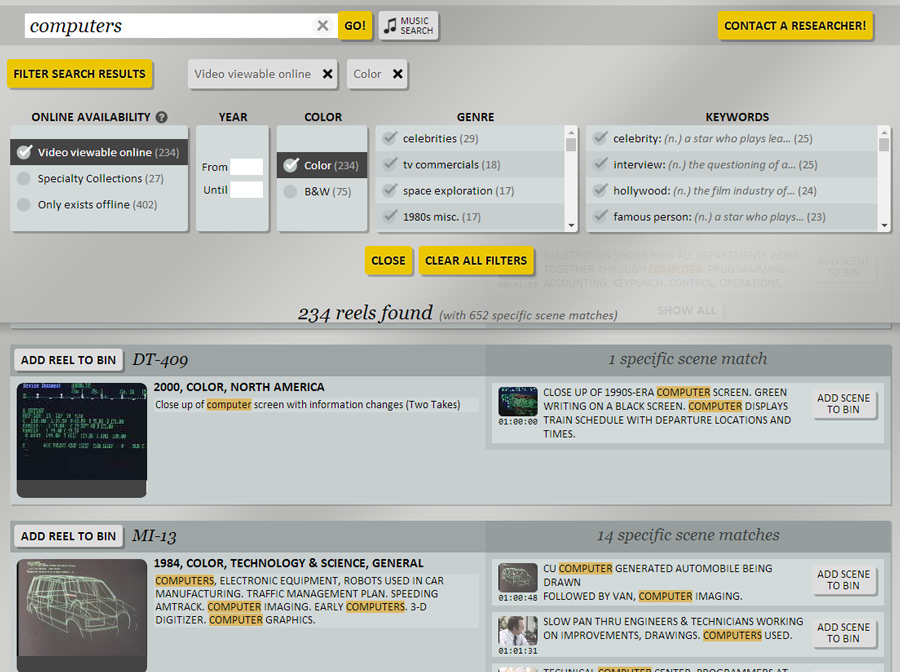 See your search results and make exact selects: Scrub along thumbnail images for a flip-book preview of a reel. Use a still-image overview to jump to a spot that looks like what you're looking for. Scan through a scene-by-scene descriptive log that can scroll along with video playback or jump to scenes by keyword match. Rapidly seek to any point in a video, and set your own in/out points to isolate the exact clip you want.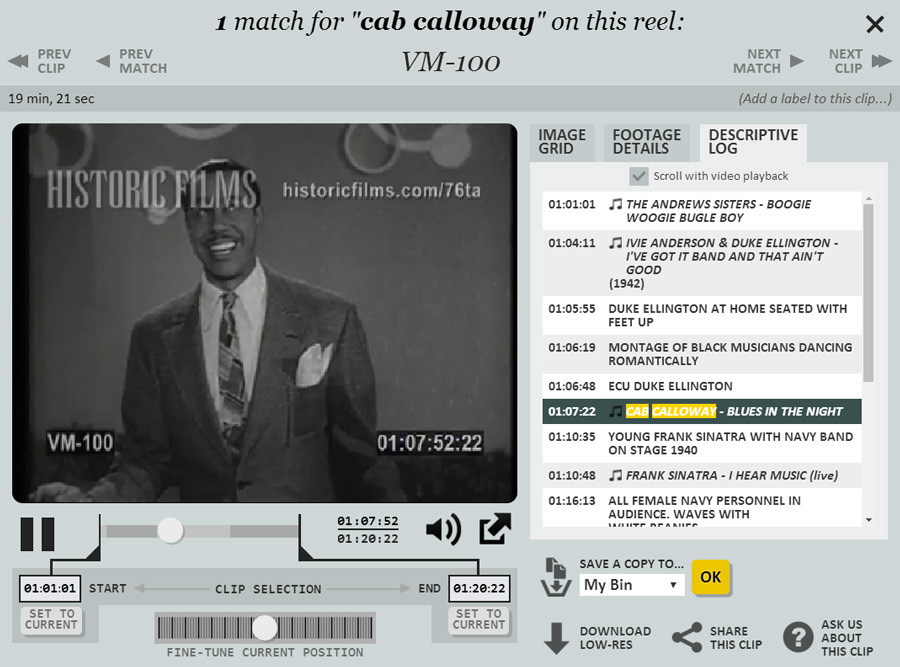 Long-format video support: With Historic Films, we sought to deliver rapid playback and seek with reels as long as two hours apiece. In the end, that meant a unique custom-made video player that could start video playback from any arbitrary point in the file, and cache small chunks at a time, while playing them back seamlessly. You can then toggle back and forth between scenes at opposite ends of a reel, without having to download the entire two-hour stretch in between, and without losing what you've already buffered.
Download low-res proxies: If you can see it on the site, you can download a low-resolution, watermarked copy to work with until you're sure of what you want to license. Every proxy video is watermarked with Historic Films' logo and a unique URL that links directly back to that specific reel on the website.
Integrated e-commerce and paywall: View your order history, pay invoices and review license agreements from your online account. Some collections have limited access, where viewing is restricted to customers with paid accounts.
Built-in social tools: You can share entire bins, bookmark, email or Tweet any individual clip, or embed it directly in your Facebook timeline.